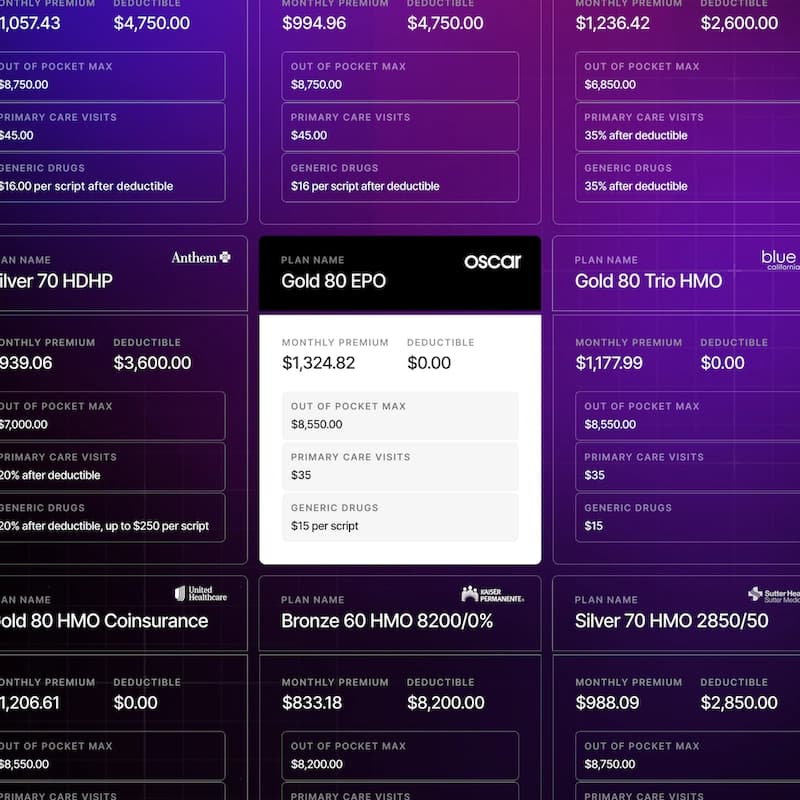 ICHRA vs group plans
Considering offering benefits with a health reimbursement arrangement? Learn more about how the ICHRA compares with traditional group health plans.
Basics
What is an ICHRA (Individual Coverage Health Reimbursement Arrangement)?
An ICHRA is a way for your business to offer healthcare benefits to your team. HRAs are a new way to provide employer-sponsored healthcare that allows you to use pre-tax money from your business to reimburse your team for their any of their healthcare expenses. This includes health insurance, dental insurance, vision insurance, and even out of pocket costs.
ICHRAs are particularly attractive to small and medium sized businesses because they're a way to provide more flexible and cost-effective healthcare benefits to your team. Thatch is a service that administers and manages ICHRAs for your team.
What is a group health plan?
A group health plan is a traditional form of employer-sponsored healthcare coverage, wherein an organization purchases a standard health insurance policy for its employees. This type of plan often covers employees and sometimes their dependents under a single policy. Under a group health plan, both the employer and employees typically share the cost of premiums.
Group health plans are often more attractive for larger employers, particularly those that self-insure. Because the plan is selected by the employer, it limits employees to the health services, facilities, and doctors stipulated within that plan.
---
Comparison
How does ICHRA compare to group health plans?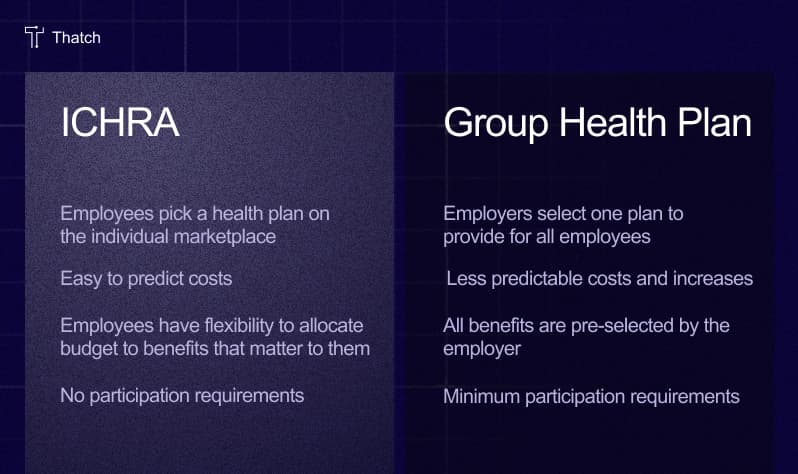 A few features of ICHRA and group plans
Choosing between a group health plan and ICHRA can be challenging. Both options have their pros and cons, depending on your organization's specific needs, budget, and operational considerations.
Flexibility
ICHRAs are known for their flexibility, allowing employees to choose their own insurance plans that fit their unique healthcare needs. Beyond insurance, employers also have the option to allow their healthcare budget to be used for any qualified medical expense, including out of pocket costs for items like prescriptions, OTC medications, or even healthcare bills.
Group plans are less flexible, instead offering a single policy (or some times a small number of options) for all employees. In a way, this model means employers are effectively choosing the doctors their employees can see, how much their medications cost, and which services are covered. It's common for employees to be unhappy with the carrier or plan their employer chooses, sometimes even finding new doctors that accept their insurance.
Cost-Effectiveness
ICHRAs can be more cost-effective for businesses, especially smaller organizations, as they allow employers to set a specific budget for healthcare through a defined contribution. Employers can decide how much to contribute, offering some control over healthcare costs.
The defined contribution model of ICHRAs also provides an element of cost predictability that is often lacking in group health plans. Traditional plans come with the unpredictability of rate hikes, new fees, or cost-sharing changes, making it challenging for businesses to budget accurately. The ICHRA's fixed contribution system avoids these pitfalls by putting the control back in the employer's hands.
However, it's worth noting that the cost stability for employers could translate into more financial variability for employees. Under an ICHRA, if healthcare costs rise and the employer doesn't increase contributions accordingly, employees will have to shoulder the difference. Employers to use an ICHRA administrator or external service to help them understand and budget accordingly.
Administrative Complexity
In a group health plan setup, administrative tasks usually involve initial setup, yearly renewals, and addressing employees' questions or concerns. While this may sound straightforward, it can often become time-consuming, especially during periods of employee onboarding or annual renewal. In some cases, these processes can be streamlined through a human resources information system (HRIS) or similar software.
For businesses considering ICHRAs but concerned about administrative complexity, third-party services are available to manage contributions, compliance, and reimbursements. These services often come with digital platforms that make it easier for both employers and employees to manage healthcare needs.
Ultimately, the choice between the administrative simplicity of group health plans and the customization afforded by ICHRAs depends on what suits your business model and the needs of your employees. Both options come with their own sets of responsibilities and complexities that should be weighed carefully.
---
Frequently asked questions
Can I offer both an ICHRA and a group health plan?

Yes, you can offer both, but not to the same class of employees. For example, full-time employees could be offered a traditional health plan, while part-time employees could be offered ICHRA.

Who is eligible for ICHRA?

Employers have the flexibility to set eligibility criteria for ICHRA. It can be offered to full-time, part-time, seasonal workers, and even certain classes of employees as defined by the employer.

Are there minimum participation requirements for ICHRA and group plans?

To obtain a group plan, employers must meet minimum participation requirements, which vary by state and carrier. ICHRAs do not have minimum participation requirements.

What are the tax implications of using ICHRA?

Both employers and employees generally enjoy tax advantages with ICHRAs. Employers can deduct their contributions, while reimbursements are usually tax-free for employees.

How does plan quality compare between individual and group plans?

It is somewhat hard to draw an apples to apples comparison, since there are many dimensions to plan quality (network size, coverage, etc.). However, comparing similar plans between the two, the quality is generally comparable. In about half of states, the individual market plans are actually less expensive than group plans on a relative basis.

How are reimbursements processed?

Reimbursements can be processed directly by the employer or through a third-party administrator. Employees submit their medical expenses for approval, and once approved, they are reimbursed up to their allowance. Thatch handles this entire experience for employers, making it easy to manage.

Can an employee decline ICHRA?

Yes, employees can decline participation in ICHRA.

Do all health plans qualify for ICHRA?

Not all health plans qualify. The plan must be a qualified individual health plan, which excludes short-term plans and plans that only provide excepted benefits.

What is the deadline for setting up an ICHRA?

There is no strict deadline, but it's recommended to set it up well in advance of the start date to give employees time to select their individual health plans.
Chat about ICHRA vs group plans
We're here to help. Thatch makes it easy to offer health benefits to your team with an ICHRA.