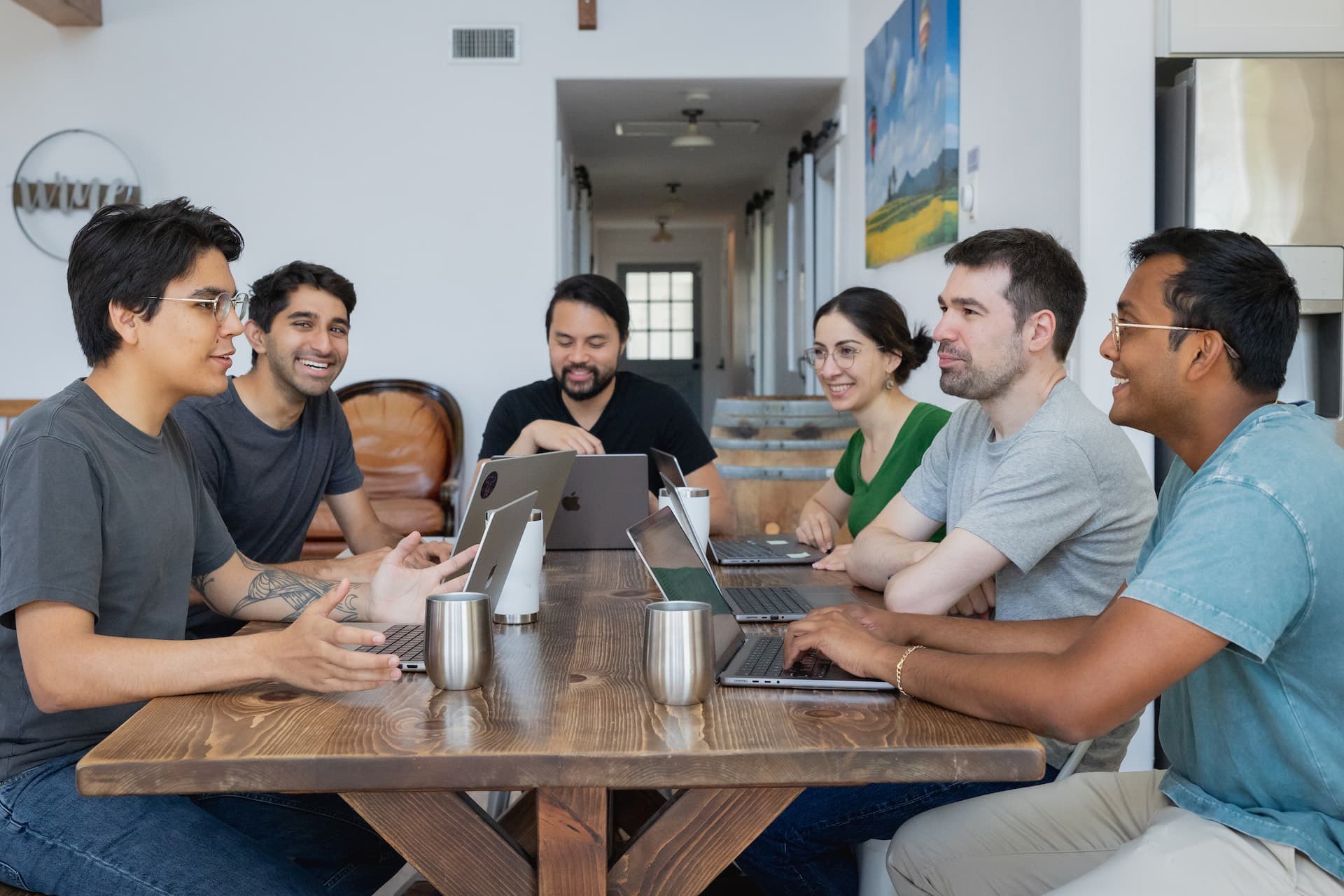 Jobs
at Thatch
Our mission at Thatch is to help startups give great healthcare to their teams. We're hiring a remarkable team to make that happen.
Join us from anywhere in North America
Thatch is a fully distributed company, currently spread out across 8 cities. Despite being remote, we're not isolated — we have an inclusive environment where you'll work closely with driven people.
Work with a great team

We're a small team of thoughtful, kind, impactful people. You'll work with great colleagues from companies like Stripe, Google, Shopify, and Etsy.

Energizing team offsites

We get everyone at Thatch together quarterly in beautiful locations to work together, get out into nature, and have fun.

Flexible home office budget

Set up your ideal remote work environment with whatever tools you need to supercharge your work.
Work with meaning
Our long-term vision is to be the default platform every forward-thinking company uses to provide health and wellness benefits. We believe we have a unique opportunity to make a positive impact on the lives of millions of people by making healthcare more accessible and affordable.
We're intensely focused on happiness at Thatch and committed to creating an environment where everyone can do their best work. In addition to everything listed here, you'll get to work with passionate people who care deeply about the mission and each other.
Strong compensation packages
We hire top talent, and benchmark all salaries above the median for companies of our stage.
Significant stock grants
Every team member has a large impact on our success, reflected in meaningful equity compensation.
Great healthcare using Thatch
We provide great health coverage via our own product (😊), including company-sponsored HSA contribution.
Additional wellness stipend
Receive a wellness reimbursement you can use for gym memberships, massages, classes, gear, etc
Flexible time off
We currently provide unlimited PTO, 10 paid company holidays, and flexible work options.
The best tools to do great work
Get a loaded Macbook Pro and a large, flexible home office budget to create your ideal setup.
Substantial learning budget
We're big believers in lifelong growth and offer every employee flexible budgets for learning.
Significant autonomy and impact
Own your destiny and do your best work in an environment free from micromanagement or bureaucracy.
Operating principles
We expect these will evolve and grow over time.
Put the Member First

Thatch exists to improve the personal health and financial well-being of the members we serve. We're focused on improving the member experience, reducing member costs, and improving member outcomes.

Take Ownership

We act like owners, because we are. Owners take responsibility for decisions, actions, and communication. We think long-term and develop action plans to ensure we're executing on our vision. At this stage of the company, we expect people to manage their own priorities with limited direction to meet our goals.

Festina Lente

Translated from Latin, Festina Lente means "make haste, slowly," which was the personal motto of Augustus Caesar. This operating principle captures the discipline required to balance urgency and diligence. If we move too quickly, we'll sacrifice long-term success. If we move too slowly, we'll never achieve sustainable results.

Pursue Lifelong Growth

We believe strongly that we'll become the best version of ourselves by pursuing lifelong growth. We're naturally curious people who strive for excellence in everything we do. We believe that hiring the best people with a growth mindset is an investment that compounds over time. We encourage team members to rotate through major projects and take ownership, exploring new roles to broaden our perspectives.

Act Courageously

Courageous integrity is the foundation of a high-trust environment. Integrity doesn't just mean avoiding lying; it means telling the truth, even when it's hard. We give tactful feedback, and are willing to accept it. We execute against the things that we say we will do, and we take responsibility and communicate when things aren't going according to plan. We take calculated risks and use failure as an opportunity to learn and improve.

Inspire Optimism

Enthusiasm can be infectious, but so can negativity. Our collective outlook is a force-multiplier for every aspect of our team; how we feel, how productive we are, our sense of belonging, and how we view our work. In a world barraged by fatalistic news and negativity, we take a contrarian stance by only hiring optimistic, friendly people. We face the brutal facts of our reality head on, but focus our energy on opportunities, not problems.
Open roles
We're hiring great people from diverse backgrounds. No experience with healthcare is required — we'll get you up to speed on everything!
Software Engineer
We're looking for a software engineer to join our team. You'll be responsible for building and maintaining the core infrastructure that powers our platform. You'll work closely with our product and design teams to build features that delight our members.
Designer
We're looking for a designer to join our team. You'll be responsible for designing and iterating on the core product experience for the Thatch dashboard, along with our public site. If you love building beautiful and intuitive products, we'd love to hear from you!